Features
Nickle-Plated brass body and PBT body.
Stainless steel tube gripping claws, collars and release sleeves(collets) offer a quick hold and release mechanism to provide a low disconnection force for easy removal of the tubing.
Oval and round shape of release sleeve are available.
Three colors on the release sleeve, blue, black and gray.
Specifications
| | |
| --- | --- |
| Fluid Admitted | Air, Vacuum, Water (no freezing) |
| Working Pressure | 0—1.0MPa | 0—150psi |
| Proof Pressure | 3.0Mpa | 435psi |
| Negative Pressure | -100Kpa | -29.5 In Hg |
| Working Temperature | 0—60°C | 32~140°F |
| Applicable Tube | PU / PA / PE / PVC |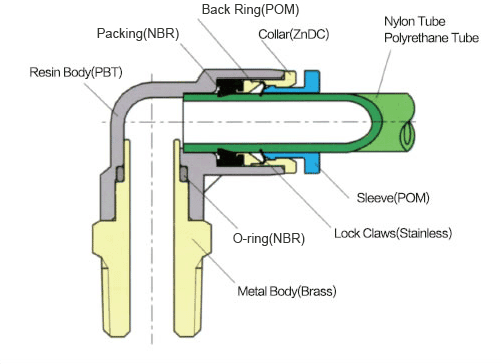 Metric Tube ØD
4mm
5mm
6mm
7mm
8mm
9mm
10mm
12mm
14mm
15mm
16mm
Inch Tube ØD
1/8″
5/32″
3/16″
1/4″
5/16″
3/8″
1/2″
Thread Standard and Type
R, PT, BSPT — 55° Taper Pipe Thread
Metric Thread
R1/8
R1/4
R3/8
R1/2
M5x0.8

M6x1

M8x1
M10x1
M12x1.25
M14x1.5
M16x1.5
M20x1.5
| | |
| --- | --- |
| Tube(Metric) | Tube(inch) |
| PV 4 | PV 5/32 |
| PV 6 | PV 3/16 |
| PV 8 | PV 1/4 |
| PV 10 | PV 5/16 |
| PV 12 | PV 3/8 |
| PV 14 | PV 1/2 |
| PV 16 | |